Esther Short Park Redevelopment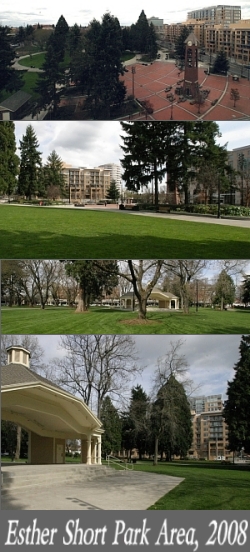 According to local lore, it allegedly began in 1997 when Mayor Royce Pollard was pushed by an angry transient who told him to 'get out of the park'. If you know Royce, you can only imagine how that went!
And so ushered in the era of reclaiming Vancouver's downtown for the public. Esther Short Park is the oldest public square in the Northwest and is now the shining gem in the rejuvenated Vancouver urban center. It's four square blocks have been completely refurbished and feature a farmer's market in the summer as well as over 30 concerts a year in the park.
Within ten years hundreds of millions of dollars poured into the adjacent blocks surrounding the square. The Vancouver Center, Heritage Place Condos, Esther Short Commons, The Hilton Convention Center and The Columbian Newspaper Buildings have all sprouted up around the park. The city has plans for a large project on the North East corner of the park for a performing arts center and two high rise mixed use buildings. Love him or hate him, Mayor Pollard has done a fantastic job overseeing the redevelopment of the downtown area. I disagree with him on some issues but we could not have asked for a better guy for this job. Vancouver is truly blessed to have this kind of money rolling into the city. All told you will read about projects that are very likely to see completion that total in excess of one billion dollars over the next three to four years. Wow.
The aerial photos here show Esther Short Park and the surrounding area. The Columbian Building which opened this year and the proposed performing arts complex with mixed use high rises. Just ten years ago this 4 block park was a destitute wasteland filled with transients, hookers and drug dealers. Nothing like half a billion dollars to clean up the neighborhood!
With the economy in recession some of the projects have been put on hold for a year or two. Most of the Esther Short area projects have already been completed. The 4th tower in the Vancouver Center is on hold for the time being.
This fantastic restoration of a formerly dilapidated area shows that local government can actually get it right from time to time. Kudos, Mr. Mayor!