Cities and Places :


Vancouver. 7.4 miles North of Portland, OR. Seat of County Government. Settled in 1825 incorporated in 1857. 46.1 sq miles. 2011 est. population, 162,300 city proper, Greater vicinity 300,000 including several un-incorporated adjacent communities. Among these include, Felida (13.3 miles NNW of Portland), Hazel Dell (10.7 miles North of Portland), Salmon Creek (13.5 miles North of Portland), Orchards (11.1 miles NE of Portland), and Sifton (12.4 miles NE of Portland). The Orchards/Sifton Area makes up about 65,000 people and the "Three Creeks" Area of Felida, Hazel Dell and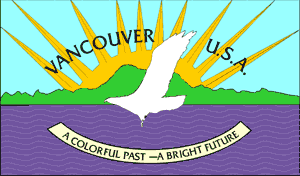 Salmon Creek make up about 70,000 people. There are ten public high schools from three districts serving the greater Vancouver area. additionally there are several private schools, public continuation high school and the Clark County Skills Center.

Vancouver has recently begun an ambitious redevelopment of it's formerly aged and decrepit downtown area. Click here for info on Downtown Redevelopment. Beginning with a beautiful restoration of Esther Short Park (the oldest public square in the Northwest) to the completion of mid rise and high rise apartment and condo buildings and the new Hilton Hotel and Convention Center, downtown is back with a vengeance. With hundreds of millions of dollars already poured into this brilliant revitalization, nearly a billion dollars more is forecast to be invested in other downtown projects and the opening of the Downtown Waterfront on the old Boise Cascade site. No city will be able to boast of such a fantastic waterfront on the mightiest river in the west.

This city is well laid out and offers old fashioned neighborhoods with classic Norman Rockwell essence as well as Orange County style 'planned' suburban development. Controversial plans are underway to improve traffic over the Columbia River between Portland and Vancouver. Click here for info on Columbia River Crossing Project. The highway access is excellent with North and South routes covered by I-5, I-205, SR-503 and 164th Avenue. The East and West is covered by SR-14, SR-500, Padden Parkway, Mill Plain Blvd and Fourth Plain Blvd. I love this town!

Here is an interactive panorama of downtown Vancouver, USA.


Camas, 13.4 miles ENE of Portland, OR. 2011 Population 19,620, 12.6 sq miles. Nice river front town with most of the homes along steep hillsides overlooking the Columbia River, Portland and Vancouver. The city has a large Georgia Pacific paper mill which still employs hundreds of people. The downtown area is quaint and charming and filled with great stores and restaurants. Lacamas lake provides boating and other recreational activities. Camas is an affluent community with most homes priced well above the county median of $205,000. The state of Washington has begun the road work to complete the SR-14 freeway from the west side of Camas all the way to 32nd Avenue in Washougal. This should be a good thing for these two communities. Camas has one high school Back to map.

Battle Ground, 18.9 miles NE of Portland, OR. 2011 Population 17,780, 3.6 sq miles. Fast growing town just North of Orchards/Vancouver. Battle Ground is close in to Vancouver and Portland but still has that small town charm. The big 4-A high school in town draws students from all over the North and East county area. This is a great area to own a home on small acreage. Battle Ground Lake State Park is literally just outside the city limits and offers camping and recreation. The lake was formed when rain water filled a volcano crater. The county and state are completing a major over haul of SR-502 that will link Battle Ground directly to I-5. There are numerous legends about the name "Battle Ground" but historians say a great battle "almost" happened but diplomacy between Fort Vancouver and local Indians won the day. Back to map.

Washougal, 16.4 miles ENE of Portland, OR. 2011 Population 14,210, 5 sq miles. Eastern most city in Clark County. The Gateway to the Gorge! Literally, the entrance to the Columbia River Gorge National Scenic Area is just a few hundred yards beyond the city limits. The area also is host to a national Moto-Cross event each year. Washougal is a town that has grown dramatically over the last 2-3 years. The town features a river front area that is flat and filled with older homes and the downtown area. Then as you rise up the hillsides newer homes are everywhere. Washougal was host to several Clark County Parade of Homes in which magnificent homes are built and toured. Washougal still feels like a small town and is another great place to seek housing on small acreage. If you can't afford river front property on the Columbia (few people not named Gates or Buffet can) You may find charming water front property on Washougal's own river. The Washougal River runs From Camas through Downtown Washougal and up into the Cascade foothills. It's name is a Chinook Indian word for "Rushing Waters". Washougal High serves the community. Back to map.

Ridgefield, 20.4 miles NNW of Portland, OR. 2011 Population 4,975, 5.1 sq miles. Don't let the population fool you, this town is ready to explode with I-5 access and a port on the Columbia. Much building is underway including a large commercial and industrial area right on I-5. In the last 5-10 years many affluent people have moved into the area building custom homes on small acreage. Ridgefield has a great little town center and the Ridgefield National Wildlife Refuge is a bird watchers dream. Ridgefield High serves the community. Back to map.

Woodland, 26.4 miles North of Portland, OR. 2011 Population 5,550 only 85 in Clark county, 2.6 sq miles. Woodland is actually the southernmost city in Cowlitz County but 85 of it's residents are in Clark County. Woodland is a town with allot to offer including good values on real estate. It is just 20 miles north of Vancouver and less than 30 miles to Downtown Portland yet locals act like it's on the moon. The Lewis River brings fresh mountain water through the heart of this town and it is the gateway to the 3 large reservoirs above, Merwin, Yale and Swift. This town also has a great golf course. Lewis River Golf Course includes a monster 687 yarder amongst it's 18 gorgeous holes. Tiger can't even hit that green in two shots. Woodland High serves the community. Back to map.

La Center, 23.5 miles North of Portland, OR. 2011 Population 2,835, 0.9 sq miles. This is a gamblers haven with several card rooms and small casinos run by local Native American tribes and other business people. This charming town is in the middle of a big controversy over the plans for a HUGE casino to be run by the Cowlitz Indians. La Center has easy I-5 access and is away from the hustle and bustle of the city. It's high school draws only those students that are in close so it is small and charming. The city ranges from 100-300 feet in elevation. Back to map.

Yacolt, 26.9 miles NE of Portland, OR. 2011 Population 1,585, 0.5 sq miles. No, it's not the smallest incorporated city in Washington state, in fact not even close as it is ranked 181 (tie with Winlock) out of 281. It is however Clark County's smallest incorporated city. If you tell people in Vancouver that you're from Yacolt, they look at you like you just said Mars. If you tell people from Portland the same thing they say "Where?" But this great little town is not that far away. It is just about a dozen miles by road from Battle Ground. It is up in the Cascade foothills and you can rest assured no new freeway projects are likely to find there way here. But at an elevation of just under 1,000 feet this town gets allot more snow in the winter and backs up to the great open wilderness of DNR Forest and the Gifford Pinchot National Forest. Back to map.

Brush Prairie, 15.8 miles NE of Portland, OR. There is actually a town of Brush Prairie, it is located just off SR-503 but it really represents a large area of small ranches and McMansions on small acreage from Vancouver/Orchards to Battle Ground. The Chelatchie-Prairie Railroad offers excursions on an old fashioned steam train into the mountains. Most of this area including the town itself is unincorporated (2000 census population 2,384) but parts of Brush Prairie are slated to join the City of Vancouver soon. The area includes Prairie High School which is well known for it's Championship Basketball program for both Boys and Girls. Back to map.

Hockinson, 17.3 miles NE of Portland, OR. This charming little town looks like Mayberry, USA but it has it's own High School, Middle School and two grade schools in it's own school district. The town represents a much larger area that includes very affluent homes in the Cascade foothills. (2000 census population 5136) Hockinson is entirely unincorporated. Back to map.

Amboy, 28.9 miles NE of Portland, OR. This town is halfway to the lakes from Battle Ground. It features a middle school and grade school as well as a small town center. Amboy is entirely unincorporated (2000 census 2,085) and includes a large rural area. Back to map.

Dollars Corner, 18.1 miles NNE of Portland, OR. Dollars Corner is a small unincorporated town that is named for the Dollar family. The "town" is little more than one intersection with some cute shops and services. It is a census tract area that covers a good sized rural area. (2000 census population 1,039). There are several antique and second hand stores in the area. Back to map.

Lake Merwin Back to map.

Yale Lake Back to map.

Gifford Pinchot National Forest Back to map.